About Climate Assembly UK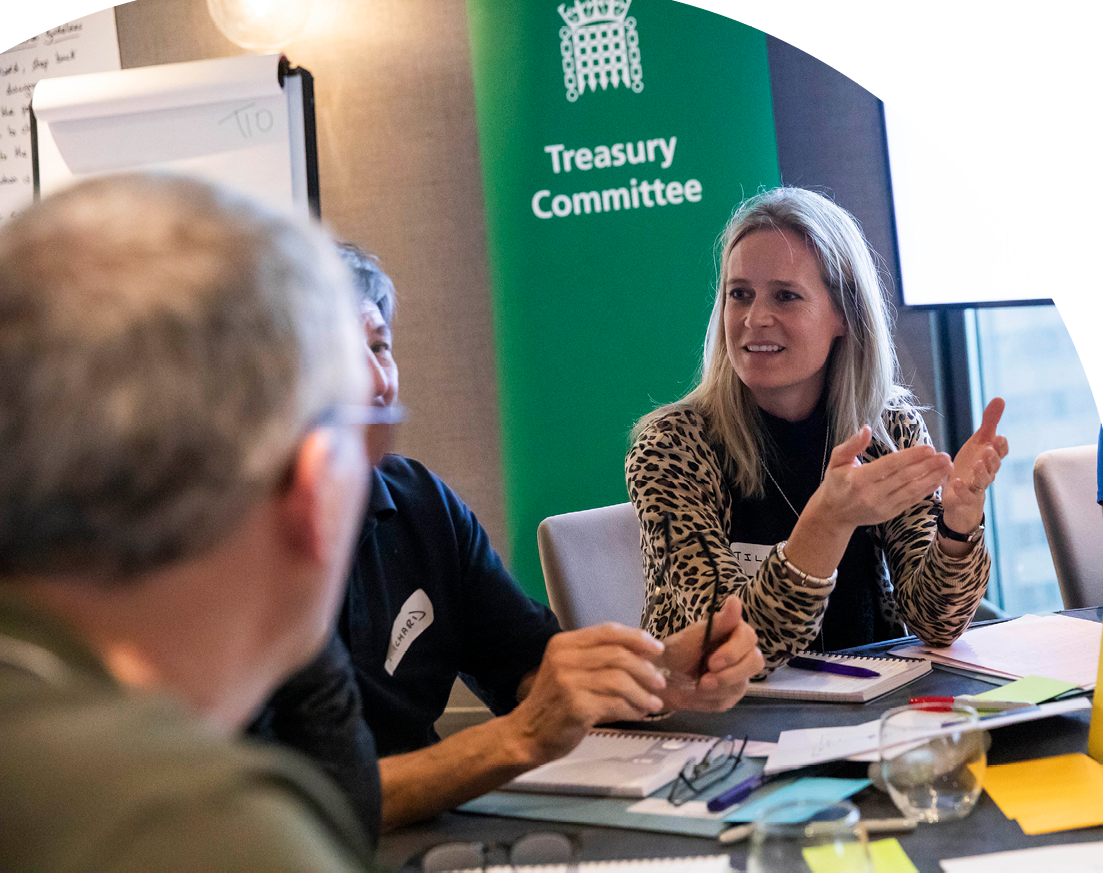 Footnotes
1 The six commissioning select committees were: Business, Energy and Industrial Strategy; Environmental Audit; Housing, Communities and Local Government; Science and Technology; Transport; and Treasury.
2 The committees announced their plans for the assembly on 20 June 2019.
3 For a broader discussion on citizens' assembly features and standards in a UK context please see https://www.involve.org.uk/resources/blog/news/when-citizens-assembly-not-citizens-assembly-towards-some-standards .
4 Sir David did not give evidence to the assembly, instead he came to meet assembly members before dinner at the first assembly weekend. He thanked assembly members for giving up their time to be part of the assembly, and took questions about his life and work – but not about his views on the path to net zero.
5 Please see Section D below.
6 Responses to invitation letters can be lower from more deprived areas. Weighting where letters are sent in this way helps ensure that enough people from these areas respond for the assembly's eventual make-up to be representative of the wider population.
7 The invitation letter explained information including when the assembly would be held, the assembly's remit, who had commissioned it, and what the commissioning committees would do with its results. It also covered information about the assembly team's ability to meet different access needs and the support we could provide.
8 We defined this as anyone that had stayed, or intended to stay, in the UK for a period of 12 months or more at the date on the invitation letter.
9 The following people could not apply to be part of the assembly: Members of either Houses of the UK Parliament, the Welsh Parliament, the Scottish Parliament, or the Northern Ireland Assembly – and the staff of any of these Members; Local Authority Councillors; elected mayors; paid employees of any political party or of UK Parliament.
10 We received positive responses from 1,748 people. This response rate of 5.8% is within the typical range for citizens' assemblies in the UK (3–7%).
11 The code for the selection is open source, and can be found on GitHub. Those who contributed to the code include Professor Ariel Procaccia and his team at Harvard University and Carnegie Mellon University.
12 105 assembly members were selected to be strictly representative of the UK population. The final five assembly members were used to over-sample groups that are either very small (meaning that an assembly member being ill for a weekend, for example, would leave them poorly represented) or which are more likely to drop out of the assembly process. For example, we slightly over-sampled people from Northern Ireland. Similarly, taken together, people in the attitudes to climate change poll who are 'not at all' or 'not very concerned' about climate change are slightly over-represented (+3 people) amongst assembly members.
13 One assembly member withdrew from the assembly process after the first weekend for personal reasons. As this happened so early in the assembly process, and all the talks and Q&A sessions from weekend one were available online, we decided to replace them from the assembly's reserve list. A new assembly member joined from weekend two and remained with the assembly throughout its duration.
14 One assembly member missed weekend two for health reasons. One (not the same person) missed weekend three for health reasons. When the assembly moved online due to coronavirus (please see Section B), two assembly members got in touch to tell us that they may have difficulty attending assembly sessions for Covid-19 related reasons. They asked to receive all the assembly information and said they would take part if they could. We aimed to facilitate their involvement by, for example, sharing speakers' pre-recorded presentations with them to watch in their own time. Sadly, however, these two assembly members did not take part in the online weekends. One further assembly member, who had previously missed a weekend for health reasons, also did not take part. Two further assembly members missed the final assembly weekend for personal reasons. The final weekend therefore had the lowest attendance of any weekend, with 103 out of the 108 assembly members present.
15 The measures described here are not an exhaustive list but they give an indication of the kinds of steps taken by the assembly team. We made it clear to assembly members that we could provide these, and other, types of support in the invitation letter. We also checked all assembly members' needs and preferences during stage three of recruitment.
16 We advised assembly members receiving welfare benefits to check with their advisor about whether or not the honorarium would negatively affect them and, if yes, whether it would help if the honorarium was paid in vouchers for a shop of their choice. Assembly members could also choose to waive the honorarium entirely, although no one did. Some assembly members did choose to receive vouchers rather than bank transfers.
17 There was a professional facilitator at each table, as well as at the front of the room.
18 Again this list is not exhaustive, but it gives a flavour of the measures put in place.
19 Each weekend in Birmingham ran from Friday evening to Sunday lunchtime. The online weekends each had short sessions on Saturday morning, Saturday afternoon and Sunday morning.
20 Please see Chapter 10 for the results of this session.
21 Assembly members heard a short presentation on this topic from Dr Alan Renwick, (Constitution Unit, University College London). All speakers' presentations are available as slides, videos and transcripts at climateassembly.uk/resources/ .
22 The assembly released its key recommendations on 'Covid-19, recovery and the path to net zero' in June 2020, in advance of government announcements on this issue.
23 The Expert Leads also used assembly members' comments at previous weekends to help shape the options.
24 Involve (please see Section D) contacted the Expert Leads to ask if they would be interested in principle in being involved before submitting a proposal for Parliament's tender for contract. The team at Parliament working on Climate Assembly UK approved these individuals as the assembly's Expert Leads when awarding the contract, on the basis of their clear expertise in addressing climate change.
25 Advisory Panel members were chosen to represent stakeholders with an interest or expertise in the areas of emissions reduction that Parliament and the Expert Leads felt Climate Assembly UK should examine. The organisations were chosen to make the panel balanced across a broad range of political and ideological standpoints, representing different parts of society (e.g. business, trade unions, NGOs and civil society groups). A climate change specialist in the Parliamentary Office of Science and Technology (POST) drew up an initial list of members. The Climate Assembly UK team at Parliament then worked with the Expert Leads to ensure that this group met the above criteria.
26 Chaitanya has since changed roles but was at Green Alliance at the point when Advisory Panel meetings took place.
27 Academic Panel members were chosen on the basis of their expertise on areas of climate change that Parliament and the Expert Leads felt Climate Assembly UK should examine. A climate change specialist in the Parliamentary Office of Science and Technology (POST) drew up an initial list of members. The Climate Assembly UK team at Parliament then worked with the Expert Leads to ensure that this group met the above criteria.
28 Parliamentary officials were also able to input to all aspects of the assembly's plans at earlier stages in their development.
29 Rachel Reeves MP has since left her role as a committee chair to become Shadow Chancellor of the Duchy of Lancaster and Shadow Minister for the Cabinet Office.
30 The House of Commons provided £120,000 in funding. The Esmée Fairbairn Foundation and the European Climate Foundation contributed a further £200,000 each, rising to £220,000 each to help cover the additional costs incurred due to Covid-19.